Yiwu-Madrid China-Europe freight trains to offer free delivery service for COVID-19 prevention materials
来源:In Zhejiang
2020-03-18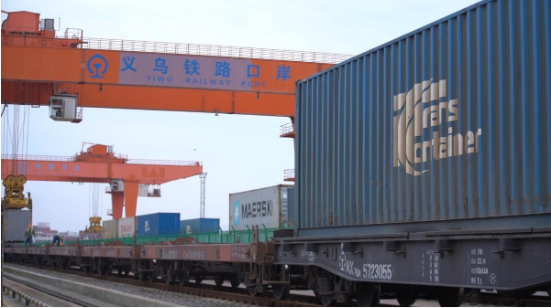 On March 16, Yixinou Trade Service Group Co., Ltd. announced that the Yiwu-Madrid train will ensure weekly departure. It will provide free international railway transportation of anti-epidemic materials donated by any institutions, overseas Chinese groups, and individuals to Spain. In addition, it will provide related services and other possible help. The first anti-epidemic materials will be transported to Madrid, Spain via the central Europe trains from Yiwu West Railway Station on March 21.
According to information, as of 4 p.m. on March 17, 2020, there have been 9,942 confirmed cases of COVID-19 in Spain, making it the second-worst affected area in Europe. Spain has started a nationwide blockade from 8 a.m. on March 16.
Affected by the epidemic, the ports of many countries have adopted different control measures on the freight liners berthing in China during the epidemic. Shipping companies have adjusted their routes to reduce losses with the increase in transportation costs and freight volume. At the same time, air cargo transportation with the function of carrying cargo by air is also insufficient due to the reduced passenger traffic.
However, China-Europe Freight Trains have the unique advantages of effectiveness in a given time, all-weather and segmented transportation, as well as the less contact by operators, sealed and safe transportation environment and effective disinfection and epidemic prevention.